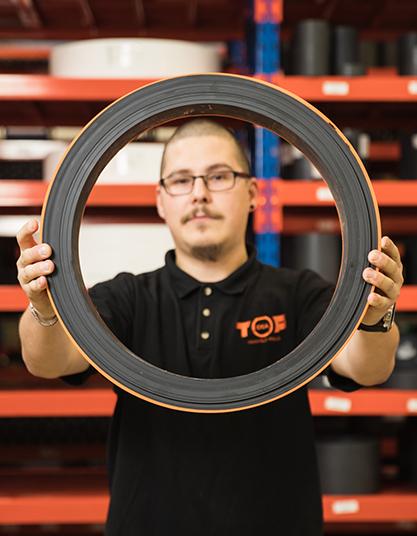 Our clients work in the demanding field of different industry. We help them to fix old leaking or broken parts with new dense and compact seals or manufacture completely new ones based on their unique ideas.

Custom-made seals for every need
We design and manufacture hydraulic and pneumatic seals according to your models and measurements. You can choose the material of your seal from over a dozen different options and diameter sizes varying from few millimeters up to four meters. Seals are manufactured fast, but with precision by our state-of-the-art CNC-machines in our modern production lines.

Seal prototypes for new projects
Waiting for the right prototype is often the cause of a delay in a project. With us, you can save valuable resources – money as well as time. You can choose seals from over 90 standard profiles of inch or millimeter sizes. If you want to try out new ideas, we can manufacture the seal according to your requirements.
We at Top-Osa offer our clients 

CUSTOM-MADE SEALS
Whatever you need, we can manufacture and deliver it.
With us, you can easily order and test a seal.

FIRST-RATE QUALITY SEALS
Every seal is manufactured using quality materials which come from SKF plants in Europe. Seals are manufactured in our factory in Finland with care and precision.

QUICK AND ON-POINT SERVICE
Leave us a message and tell us your need, we contact you in the next 24 hours.

VAST STANDARD STORAGE
We have over 8 000 standard seals in our storage and ready to be delivered to you.

WITH SOLID EXPERIENCE
We have manufactured seals for over 20 years and worked in the field over 30 years. Our experienced team of 10 professionals is ready to serve you.

FAST DELIVERY
Our seals are already delivered to multiple clients in Nordic countries. We are commended by our clients for a very fast delivery. In the best case, we deliver the seal to you in the same day you ordered it.

HYDRAULIC SEALS
Piston seals
Rod seals
Wiper seals
Guide rings
Telescope cylinder seals

ROTARY SHAFT SEALS
Millimeter and inch-based
Materials: NBR, FPM, SILICON

V-SEALS
Standard materials: NBR, FPM

O-RINGS
Hardness 70 sh ja 90 sh
Materials: NBR, FPM, EPDM, SILICON, PTFE, PU, PTFE-coated FPM ja SILICON O-rings
O-rings
O-ring set
X-rings
Support rings

PNEUMATIC SEALS
Piston seals
Rod seals
Wiper seals

  ABOUT US
At Top-Osa, we custom-design and custom-make
seals to meet your unique needs
© 2018 top-osa ltd. All rights reserved.
LOCATION
Pyrynkatu 6,
33900 Tampere, Finland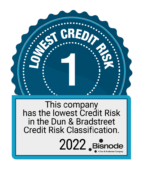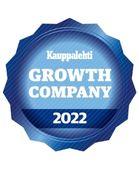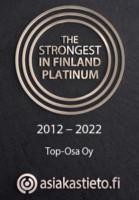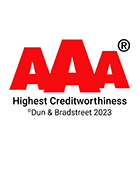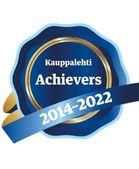 Top quality from Top-Osa
Please contact us for more information via phone, email or offer request form.